Sanary sur Mer
Sanary is the most picturesque fishing village in Provence on the Mediterranean, relatively unspoiled and featuring a uniquely large collection of traditional wooden fishing boats, mostly the local "pointus" owned by local amateurs.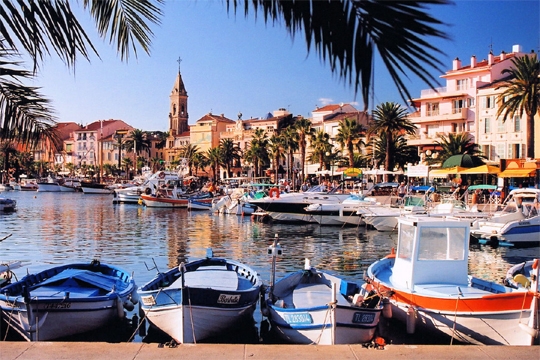 Sanary is located on the Mediterranean coast half an hour east of Marseille and ten minutes west of Toulon; it can be reached in under 4 hours of high speed train from Paris. It has a beautiful coast line with small beaches. Even though Sanary sur Mer is a tourist's dream, unlike other towns on the southern coast it is an active village all year round; as a matter of fact, it is best avoided in late july and august, when it gets too crowded. But the rest of the time it is a scaled down version of heaven on earth. Nearby Portissol Beach is secluded and beautiful, there are also nice beaches at Le Brusc. If you windsurf, nearby Brutal Beach is a known spot for waves and hard Mistral wind.
Sanary-sur-Mer is the sunniest place in France, with an average of 320 days of sunshine and solar radiation (6156 MJ/m2/yr) comparable to Sicily. Sanary is regularly swept by the Mistral, a strong wind coming from the Rhone Valley, which brings low humidity, gusts up to 130 km/h, very cool temperatures, deep blue skies and blinding sun.
Culture
Aldous Huxley wrote Brave New World in Sanary in the early 30's. Until the early years of World War II Sanary became a literary capital of Germany: Bertolt Brecht, Ludwig Marcuse, Thomas Mann, Stefan Zweig, Arthur Koestler, Alma Mahler, Franz Werfel, Frank Bruno, Walter Hasenclever, Alfred Kantarowicz, Joseph Roth, Lion Feuchtwanger and Ernst Bloch all lived here. Marcuse wrote: "Wir wohnten im Paradies - notgedrungen" - we lived in paradise, against our will. It is possible to walk by the houses that they lived in.
Jacques Cousteau had a house in Sanary, the Villa Baobab. He was a pioneer of deep sea diving equipment, which he invented and developed around Sanary.
Each year in May-June the Photomed festival attracts photography buffs, with many quality exhibitions in Sanary and nearby towns.
In Ollioules at the Châteauvallon site there are various shows, and in particular in the summertime there is an excellent festival of classic and contemporary dance in the open air amphitheatre.
GUIDE TO SANARY
Bandol wine
Sanary happens to border with the Bandol AOP wine appellation, a small area where you will find some of the best red wines in Southern France, some of which are comparable to the great wines of Châteauneuf-du-Pape: Domaine Tempier, Domaine de la Tour du Bon, Domaine Lafran Veyrolles, Domaine la Suffrène, Château Sainte Anne, Château de Pibarnon, Château Jean Pierre Gaussen and Domaines Bunan. Rosé wines from Tempier, Tour du Bon and Domaine de Terrebrune, as well as those from Domaine de la Mordorée in distant Tavel, are truly exceptional wines worthy of attention. You can get great Provence wines at Dupéré Barrera, Domaine Hauvette, Domaine Henri Milan and especially Domaine Richeaume.
Sanary has an excellent wine store Impression de Vins as does Bandol Caves de la Poste.
Food shopping
At Sanary there are two fine food stores, Benech (who carries Michel Cluizel chocolate, good teas and Petrossian smoked salmon) and Epicerie des Saveurs (who carries Bonnat chocolate), plus an excellent pastry shop La Fontaine that makes the best Tarte Tropezienne. An excellent belgian beer and chocolate shop can be found on rue Gallieni near the roundabout. Not far, in Six Fours, an incredible selection of sausages at Gekko Gourmet, Avenue de la Mer, and a great butcher in the Spar at Les Lônes.
In Sanary on the port check out the fishermen stalls, you'll find fresh fish at good prices. The market under the plane trees is very nice, prices are a bit expensive but the quality is excellent. Among the most interesting stalls, a very good seller of cheese from Savoie, olives and tapenade from Cocktails du Midi, italian products at Il Botteghino, the butcher Agullo, a couple of farmers stalls, the fish stall of the Pilato brothers, and a honey maker.
Hotels and Restaurants
Sanary is almost perfect: beaches, boats, wine and fish; however, all over the Mediterranean coast, finding quality restaurants with good service and a good wine list, or decent hotels with up-to-date furnishings, is not something to be left to chance, and even the guides should not be fully trusted.
Recommended restaurants around Sanary with good service, food and wine:
Le Pied de Nez in medieval Castellet, with very well prepared food using lots of hard to find local produce and wines, and that rare commodity, friendly service.
La Promesse in Toulon, a new restaurant that shows a lot of promise, very friendly service, nice wine list and a sincere cuisine capable of reaching the highest levels when it wants to.
Le MonteCristo a 2-star near the Castellet racetrack, exceptional quality, delicious cuisine at a very high level with very competent nice service.
Le Petit Nice - Gérald Passédat in Marseille, the only 3-star on the entire French mediterranean coast, is truly extraordinary from every point of view: breathtaking panorama over the sea, excellent service, sublime quality, very complete wine list.
Le Bard'ô in Sanary on the beach at Portissol, fair cuisine, uninteresting wine list, good ambiance and service, superb view and setting.

Recommended hotels in Sanary:
Hotel Synaya, small family run hotel with parking, pool, friendly efficient service, 5 minutes by foot to the town centre and 2 minutes from Portissol beach.
Best Western Hotel Soleil Et Jardin very friendly service, 10 minutes from town centre.
Hôtel de la Tour, good service, superb view of the port.
Hostellerie Bérard, a few kilometres away, comfortable, with restaurant, nice view on the Bandol vineyards.
The best coffee is at Häagen Dazs near the church. Not quite like an Italian coffee, but infinitely better than Starbucks.
Around Sanary
Nearby visit the fishing village of Le Brusc (direction Six Fours), the medieval villages of Le Castellet and La Cadière, the coastal village of Cassis and its breathtaking Route de Crêtes at the edge of the fjord, and the stone beach of Port d'Alon.
The best beach is the one at Cabasson and Brégançon, a naturally sandy beach an hour's drive from Sanary, near the beautiful village of Bormes les Mimosas and next to the Fort de Brégançon, summer residence of the Président. There is parking in the pine forest. Closer to Sanary I would recommend the pebble beach at Corniche du Cros, just before the village of Le Brusc.